Hull Works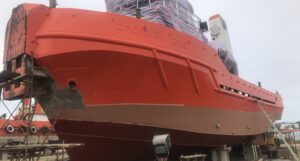 Hull cleaning, painting, maintenance and repair covering fibreglass, aluminium and steel hull vessels.
We also offer ultrasonic plate thickness testing, fibreglass patching and hull replating.
Propulsion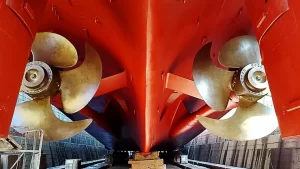 Our propulsion team are highly skilled in repairing, build up and modification of propellers. Their experience extends across many sizes and types of propellers for all types of vessels.
Fabrication & Welding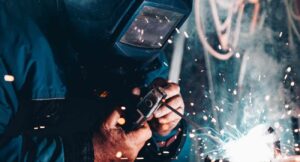 Our welding and fabrication teams have extensive experience in fabrication of vessel components such as deck fittings and internal ship structures. We also compliment any of these kinds of works with a thorough review and NDT check after completion.
Berthing, Hardstanding & Layup
KNSM has over 600m of berthing space currently available alongside the jetty. We provide 24 hour watchman services for clients berthing and also have berths with electricity and water supply.
We also have berthing areas specifically for vessels that may want to cold layup at a secure area and still have easier access to the vessel when required.
In the future we hope to develop further deep water berthing areas where we can cater to some of the larger vessels that may need to lay over for maintenance or contracted works.
Workspaces Rental
At present we have 10 covered workspaces and over 4 acres of sea facing open fabrication areas. Each covered workspace is approximately 2500 square feet and has utilities and toilet facilities already installed.
The open fabrication areas can be sized according to the requirements of the client. These can range anywhere from 2,500 square foot to 20,000 square foot. This enables contractors to only rent what they actually need.
Vessel Supply Services
Vessel supply services such as water and shore supply can be arranged on site. We also have a number of reliable contractors and suppliers who can also help vessel owners cater for other supplies and consumables.
We hope to expand our supply portfolio in the near future to truly become a one stop solution for all vessels that may need such services.
Loading & Unloading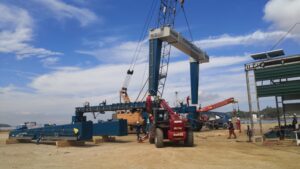 Provision of heavy lifting equipment to assist in loading and unloading of machinery and equipment from vessel to shore and vice versa.
Piping
Our piping team are skilled at planning, maintenance, service and installation of existing and new piping systems on board vessels.
We hope in the future to extend these capabilities into servicing off shore piping systems and other similar equipment.
Mechanical
Our mechanical section are well versed in overhaul of diesel engines. Over the years, we have performed major overhauls on many different engines and understand the need for "fit for purpose" purpose overhauls as required by the client.